Articles
1. Ehrlichiosis
2. Tick and Flea Control
3. Elisa Testing
4. Vaccine Regimen
5. Distemper
6. Parvo
7. Uterine Necrosis
8. Difference Between Reputable Breeders and puppy mills.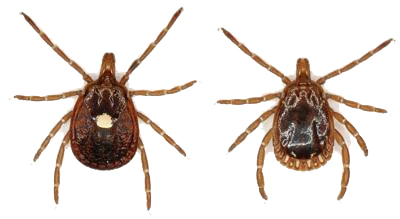 Ehrlichiosis - a dreaded blood parasite
Ehrlichiosts has been, by far, one of our "bestsellers" in our hospital practice. It estimates about half of the infectious cases each month. What is Ehrlichiosis? How do we, as dog owners protect our pets from it? Is it zoonotic (transferable to humans)?. This article aims to answer these questions and hopes to inform all you dog lovers out there to avoid the occurrence of the disease.
Ehrlichiosis is a disease caused by the blood parasite Ehrlichia sp. It inhabits and destroys circulating white blood cells.

How is it transmitted?
It is transmitted through the bite of the common brown tick. One infected tick is enough to transmit the disease to your dog.

What should dog owners look out for?
Clinical symptoms may include, epistaxis (nose bleeding — common in German Shepherds), spleenomegaly (enlargement of the spleen), hepatomegaly (enlargement of the liver), edema of the limbs (nagmamanas), bloody diarrhea usually black in color (indicating the presence of digested blood), vomiting (with or without blood). These are common symptoms found in a dog with Ehrlichiosis, however, some dogs may not show signs at all. If you have a dog you suspect has Ehrlichiosis or has been diag nosed to have ehrlichiosis, its best to have all the dogs within your household checked as well. Many do not show skins until it is too late.

What should my vet be checking for?
First off, your vet should be doing a complete physical examination. He/she should be checking all the vital signs, the eyes, ears etc. It is especially important to check the mucus membranes and the capillary refill time to gauge whether you dog is anemic or not. Skin turgor is also checked for possible dehyd rations. Then abdominal pal pation is done. A skilled veterinarian should be able to de termine whether your dog has abdominal organ enlarge ments such as those mentioned above. A CBC (complete blood count) should be done to give a better idea of the internal situation of the body. Dogs with Ehrlichiosis usually show a decrease in platelet and white blood cell count. Ultimately if bleeding is great, red blood cell counts will also decrease.A blood smear will give an idea of the type of anemia your pet has, and if you're lucky the ehrlichia parasite may be visible. However, visual diagnosis on smear of Ehrlichiosis is extremely rare and it is unlikely that a confirmatory diagnosis can be done through a blood smear. The recommended confir matory diagnosis to ehrlichiosis is an ELISA (enzyme linked immunoassay) test which can be done by your local veterinarian. An ELISA tests for your pet's antibodies against Ehrlichiosis.

It follows the concept that if the infection is there, then the body responds to the infection by creating antibodies. Therefore, no antibodies means no infection. However, there are instances such as when the patient is immunocompromised that this may not be the case. Immunocompromised patients may show false negative results due to their inability to produce antibodies despite the presence of the disease. Another limitation of antibody test kits is that these tests are unable to detect disease during its early stages. For example, a patient showing symptoms of Ehrlichiosis after being infected (or bitten by an infected tick) only 3 days before will most likely show a negative result for this test since it takes about 2-3 weeks for an antibody response to be produced by the body.

There are also other tests in the market that may confifirm Ehrlichiosis and these are rapid immunoassay test which also checks for antibodies. Rapid test kits are similar to pregnancy test kits for humans which show two lines for a positive result and one line for a negative one. These tests are not as sensitive as that of the ELISA and are unable to give an estimate of when the patient was infected by the disease. Due to specifific limitations of other Rapid test assays, we prefer and recommend the use of the ELISA tests at Pendragon. This test may be a bit expensive but in the long run it could end up saving you a lot of money as well as your pet's life.

How to avoid ehrlichiosis? Is there a vaccine?
Unfortunately there is currently no vaccine in the market, although there is one currently being studied; and the only prevention of the disease is proper maintenance and sanitation. Make sure that your dog remains tick free and the surrounding areas uncontaminated. For maintenance, you can give your dog a bath regularly at least once a week with anti-tick soaps and shampoos. You could also use anti- tick and flea powders, collars or sprays to repel ticks and prevent them from attaching to your pet. We recommend the use of Spray Away Citronella Pet Cologne for this. This product is safe to use and effective. Also make sure you regularly clean the area where your pet most frequently stays. Spraying with organophosphates and pesticides will kill the ticks and fleas, however, please use these products with extreme caution since these are poisonous to both humans and dogs. We advise that the dogs and children not be present during spraying of these areas and that they are not let lose in the area for at least half a day. Lastly, Ehrlichiosis, although in rare immunocompromised individuals, can be transferred to humans so be sure to take care in handling infected dogs.

Keep your pets clean,

keep them healthy.
Your dog has just been diagnosed with Ehrlichiosis. What are some things that you need to know about treating your dog for the disease?
The drug of choice for treating Ehrlichiosis is Doxycycline. Although other drugs such asquinolones and imidocarb diproprionate. Other drugs, however, have been known to be unsuccessful in treating Ehrlichiosis. In chronic cases of Ehrlichiosis, drugs mabe used in combination to treat the disease.Successful treatment of Ehrlichiosis does not mean that your pet has lifelong immunityagainst the disease . Once your pet is cured, it can be re-infected through tick bites or throughblood contact. Contaminated needles may also transfer the disease, therefore always makesure that needles used to vaccinate your pet is new and unused.


Because your pet may be re-infected with Ehrlichiosis, it is important to make sure that ALL ticks within your pet as well as the surrounding are are eradicated. (refer to tick and flea control article). Also, dogs within the same household should be tested for Ehrlichiosis and treated accordingly as well. Negative dogs may be given prophylactic doses instead.Diagnosis is done through ELISA testing, although rather costly, it is best to do that test since ELISA test results prior to medications are compared to ELISA test results 9-12 months later to be able to clear your pet.

Complete Blood and platelet counts are done prior midway andpost treatment as a gauge as to whether your pet is improving from the medications prescribed. Pets that do not seem to have improvements in the blood counts may either have a resistant strain to the antibiotic prescribed or may be experiencing bone marrow suppresion, In either case, these tests are important to properly determine the response of the pet to treatment. Liver (ALT/AST) tests ideally is also done to ensure that the patient has no liver damage. Liver damage is common occurence in Ehrlichiosis cases. Liver Tonics and special prescription diets are concurrently prescribed with the treatment depending on liver enzymes result. However it is still best to put the patients on hepatic prescription diet as well as liver tonicsas precautionary measure. Doxycycline is normally the drug of choice for this disease. It is prescribed from 28 days up to 3 months depending on the response to the medication of the patient. During this time, pets should be kept on a low fat diet. They must not be given any dairy products such as milk, yogurt, cheese, etc. Antacids and Calcium supplements must also be avoided.